About "Telomere"
Telomeres are structures at the end of our chromosomes that shorten every time a human cell divides. Each time our cells divide and our chromosomes replicate, our telomeres become shorter. They shorten throughout our lifetime, and when they reach an average of about 5,000 nucleotides, our cells cannot divide any further, and we die of old age.
This problem is because of a telomerase enzyme deficiency syndrome, or TEDS that affects every one of us. If it weren't for lack of this enzyme our telomeres stay long and healthy. The length of an individual's telomeres is closely associated with their biological age and research suggests that control of telomere length has the potential to treat many diseases associated with aging.
Only in the last thirty years science has made real progress in understanding the fundamental question of why we age and what can be done about it. These discoveries have not been widely publicized-­‐yet -­‐ and so most people are unaware of how close we are to curing the disease of aging once and for all.
Cause of aging "Telomere"
However, telomeres is required for normal chromosome segregation, since thereby shortening the time a cell divides, the telomeres become shorter than a certain length, cell viability occurs destabilization of chromosomal loss, as a result, it will appear a variety of aging of the body. In other words, the telomere is related to the fundamental factors of human aging.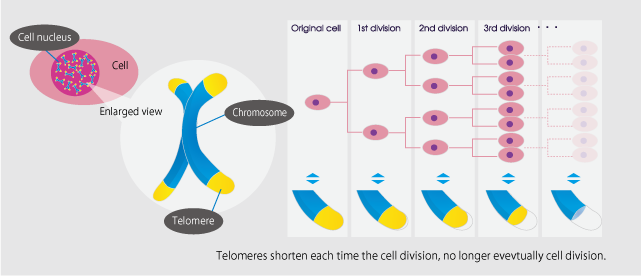 Diseases caused by telomere shortening
| Disease name | abbreviation |
| --- | --- |
| Cardiovascular disease | CVD |
| Cancer | - |
| Chronic obstructive pulmonary disease | COPD |
| Degenerative disk disease | DDD |
| Alzheimer's disease | AD |
| OsteoArthritis | OA |
| Rheumatoid Arthritis | RA |
| Oseteoporosis | - |
| General immunodeficiency | - |
| Skin Aging | - |
| Age-related Macular Degeneration | AMD |
| Liver Cirrhosis | - |
| Muscular Dystrophy | - |
| Cell & Tissue Transplants | - |
| Acquired Immune Deficiency Syndrome | AIDS |
| Hutchinson-Gilford Progeria Syndrome | HGPS |
| Dyskeratosis Congenita | DC |
| Idiopathic pulmonary fibrosis | IPF |
| Cri du Chat syndrome | - |
| Down Syndrome | DS |
| Fanconi's Anemia | FA |
| Tuberous Sclerosis | TS |
| Werner's Syndrome | - |
| Aging | - |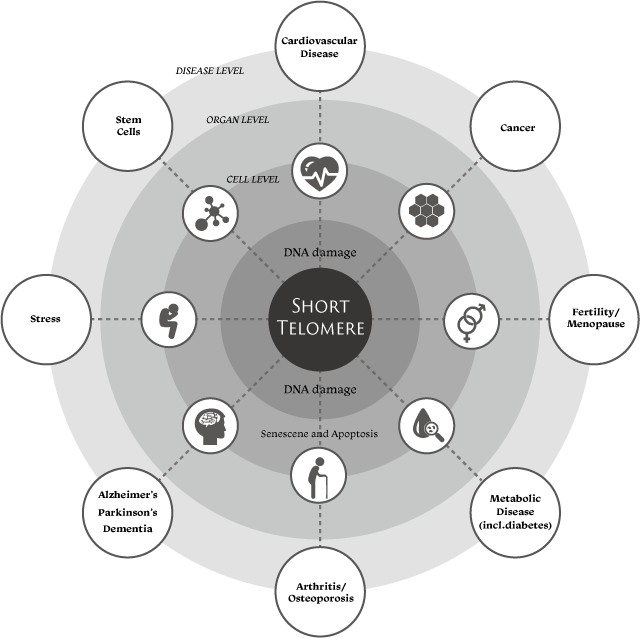 Attention in the world! Telomere analysis by "blood test"
The 2009 Nobel Prize in Physiology and Medicine has been given to three scientists and it is a telomere analysis by blood test that enables chronic diseases and early diagnosis that attracts worldwide attention.
This "telomere analysis" by blood test enables early prognosis for various diseases such as cancer as mentioned in the preceding paragraph, the role as an independent biomarker is enormous, contribution to the future medical care is It is drawing attention from doctors all over the world when it becomes very big.
Among them, the analysis advanced by defytime Science Japan simply does not estimate the average telomere length, but rather takes a histogram of all the telomeres and evaluates the shortened telomere in a comprehensive manner, including the proportion of each telomere per chromosome We have algorithms to properly evaluate, such as hierarchizing the risk of age-related diseases with the enormous data we already have.